Reno, Nev. Jan 23, 2023. The Washoe County Human Services Agency (HSA), and the Katie Grace Foundation are proud to announce the Katie Bug Boutique Grand Opening at the OUR Place shelter on Tuesday, Jan. 24, 2023.
The Katie Bug Boutique will be available to families of OUR Place, providing clothes, shoes, and toys to hundreds of children. Each family can shop for various items, free of charge, which gives them hope, dignity, and a level of normalcy during a very difficult time in their lives.
The Katie Grace Foundation has done an amazing job of transforming an old storage room into the Katie Bug Boutique. Volunteers will staff the boutique, providing new items from their multiple connections and community partnerships.
"We are so grateful for the opportunity to partner with OUR Place to support the children in our community. At Katie Grace Foundation, we believe that it is so important to band together to uplift our youth with acts of kindness and build their self-esteem. By creating Katie Bug Boutique, we hope that every child who walks through our doors feels important, valued, and loved," said Amie Lands, executive director of Katie Grace Foundation.
"To know Katie was to be loved by Katie," said Kimberly Weingartner, Katie's mom, and founder of Katie Grace Foundation.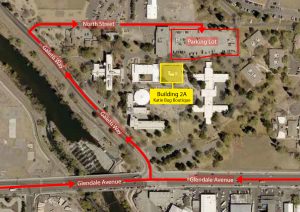 Who: Katie Grace Foundation and Washoe County Human Services Agency.
What: Katie Bug Boutique at Our Place Grand Opening.
Where: Our Place, building 2A. Please refer to map for parking.
When: Tuesday, Jan. 24, 2023, from 10 a.m. – 12 p.m. Opening remarks to be made at 10 a.m.
Media Contact: HSA Communications Manager Chris Ciarlo, at Cciarlo@washoecounty.gov.
"Thank you to the Katie Grace Foundation for being such an incredible visionary, willing to partner with Washoe County to help our most vulnerable OUR Place guests," said HSA Director Amber Howell. "The Katie Bug Boutique will be invaluable, providing a place on-site for the OUR Place children to shop for beautiful clothes, shoes and toys."
OUR Place is an outcome-based campus, designed to create a safe and stable environment, where women and families who are experiencing homelessness are treated with dignity and respect, all while being connected to critical services, like healthcare, employment, therapy, and rehabilitation. Learn more about Our Place at Our Place (washoecounty.gov).
The Katie Grace Foundation embodies a giving spirit, serving the community at large and any person pursuing the betterment of their life. To learn more about the Katie Grace Foundation, head to their website at https://www.ktgracefoundation.org/.
Since opening in 2020, OUR Place by the Numbers:
332 total families have been served.
602 children have been served.
# # #