Happy Fall from THE STAFF AT WASHOE COUNTY REGIONAL ANIMAL SERVICES!
This quarter we have a newsletter jam packed with great information, a job announcement, feel good stories, and updates!
This holiday season, take a paw-sitively proactive step in safeguarding your pet by creating a dedicated contact in your phone for your pet. Store their microchip number as a phone number, and don't forget to include an up-to-date photo as well as other useful information. This quick and accessible resource can be a game-changer if your furry friend ever decides to embark on an unexpected adventure. Stay connected, stay safe, and cherish the season with peace of mind!
Animal Services is thrilled to announce an exciting opportunity to join our team as a full-time, supervising, veterinarian! If you are passionate about about helping shelter pets and contributing to community centered services that support the human – animal bond, we invite you to consider joining us. Click here to review the job requirements and submit your application. The recruitment process will conclude on 12/19/23. Don't miss the chance to be part of our dedicated team!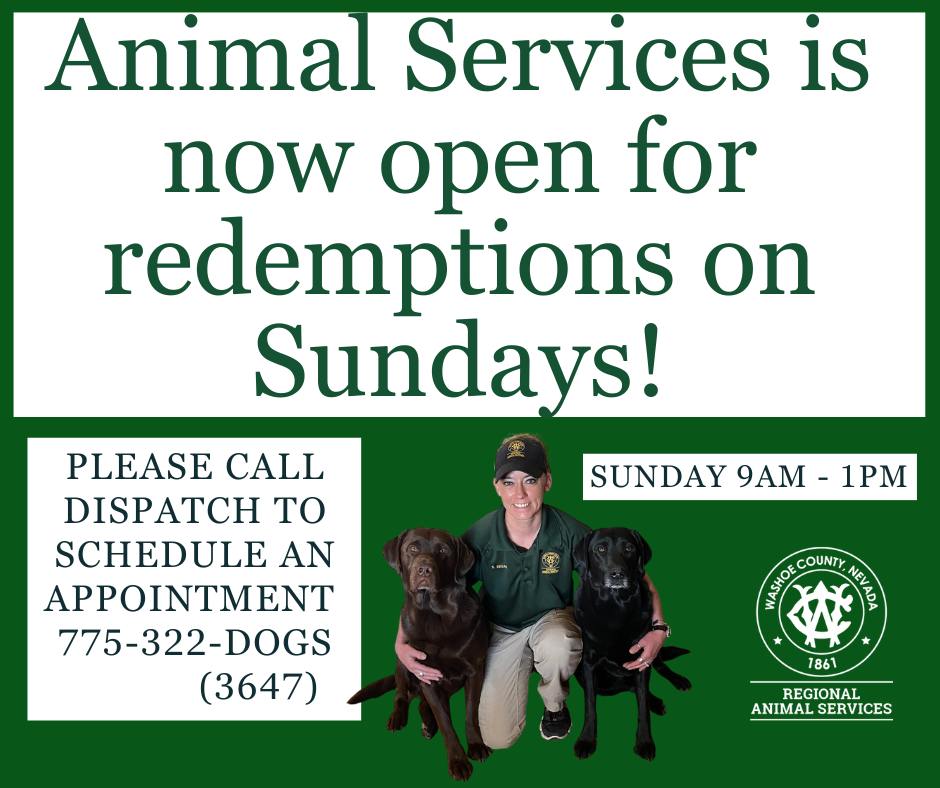 Animal Services is available by appointment on Sundays from 9am-1pm for owners to pick-up their pets! on Sundays from 9am-1pm for owners to pick-up their pets!
To ensure a smooth experience, please call our dispatch at 775-322-DOGS (3647) to schedule your appointment before coming in. Our dedicated team is here to help reunite you with your furry family members seven days a week.
Thank you for your support, and let's bring those precious pets back home!
Have you seen our new weekly performance report card? We aim to share a glimpse into what is happening at our shelter, including animals incoming and outgoing.  You might be surprised to see how many animals we truly handle each day! This information is currently posted every Thursday on our Facebook page. Like or visit our page for an in-depth look at our operations and pets at our facility. facebook.com/WashoeAnimals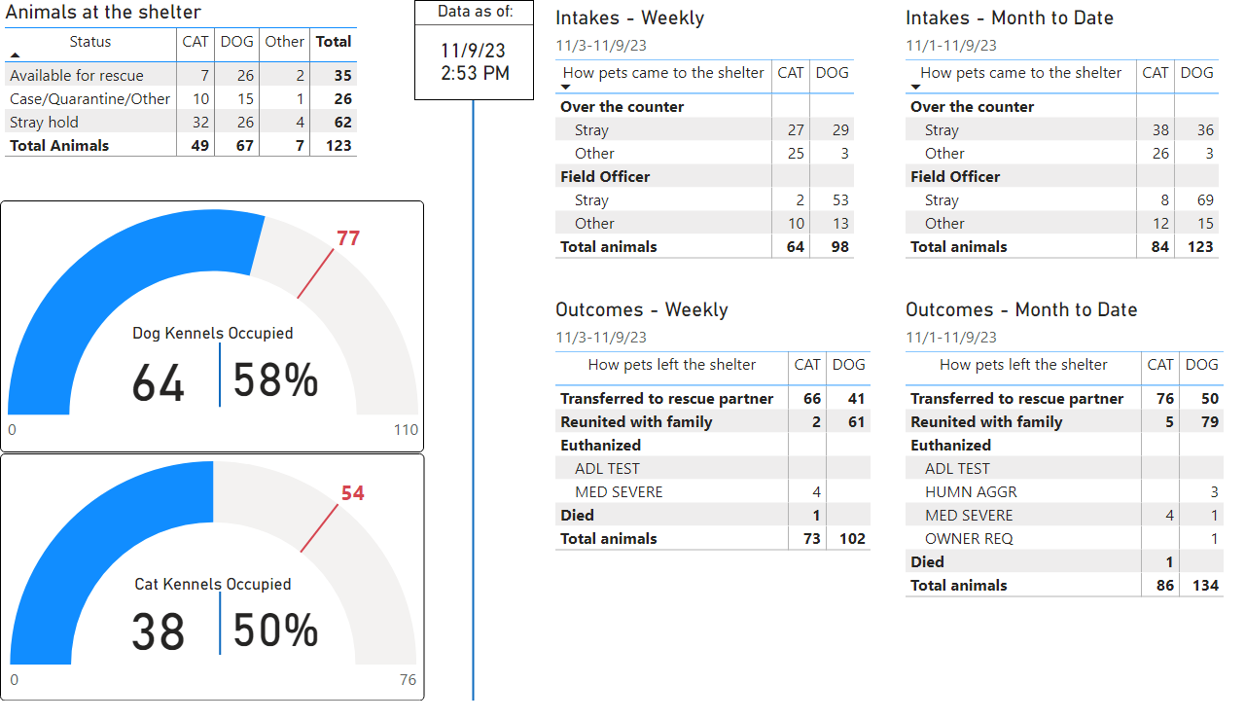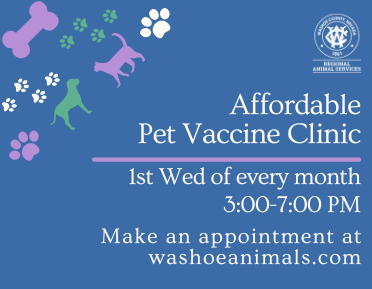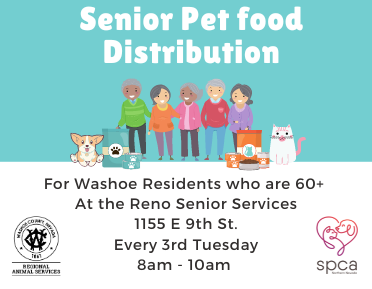 Vaccination clinics
Having updated vaccinations is important for all pets in our community; Animal Services offers a vaccination clinic on the first Wednesday of every month from 3:00pm – 7:00 pm.  Appointments generally take about 15 minutes and most vaccines are only $10 each!  Click here to make an appointment!
Free Microchipping
Microchips are a permanent form of identification for your pet to help them get home! Bring your pet to Animal Services anytime Monday-Friday 8-5 or Saturday 9am – 3pm and our staff will microchip your pet and register your microchip for free!
Free pet food for local seniors
On the third Tuesday of the month, Animal Services, in partnership with SPCA of Northern Nevada, will be at Washoe County Senior Services to provide free pet food to local seniors with pets! Every month we provide about 1,500 pounds of pet food to local seniors with pets!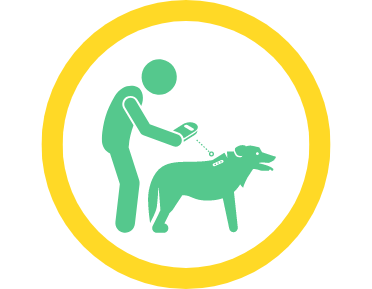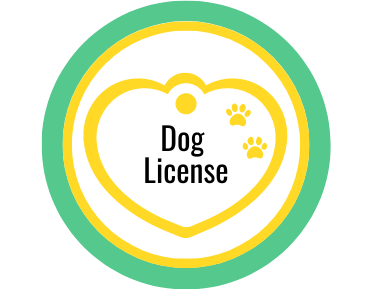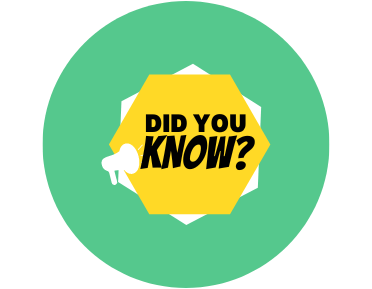 Public Microchip Scanning Stations
Want to help keep a lost pet out of the shelter? With nine public stations setup across Washoe County you can now scan any found pet for a microchip and contact the microchip company to help you reunite the pet! You help a pet and save valuable space at the shelter for pets that truly need to be here. Talk about a win-win! For more info check out HelpingPetsHome.com
Dog Licensing
A license to help them get home, and to follow the law? Now that's a two-fur deal! Whether you are purchasing your first annual dog license or have been licensing your dog with us for years there's no time like the present to get your pup licensed!
Get your license now at Washoe.docupet.com
Update your contact info
Does Animal Services know who to contact if we find your pet? Having updated contact information is vital to our work to reunite pets with their families. If your information has changed please help us update our files by completing this simple online form. You can also email us at Pets@washoecounty.gov or stop by our office to update your information.
Kudos Corner
Our dedicated officers had been working tirelessly to catch a crafty pup, but this skittish little one took refuge in a small drainage pipe, making it a challenging rescue.
We received numerous calls about this little pup, and we're thrilled to share that they were safely rescued and transferred to Nevada Humane Society for continued care and help finding a happy home!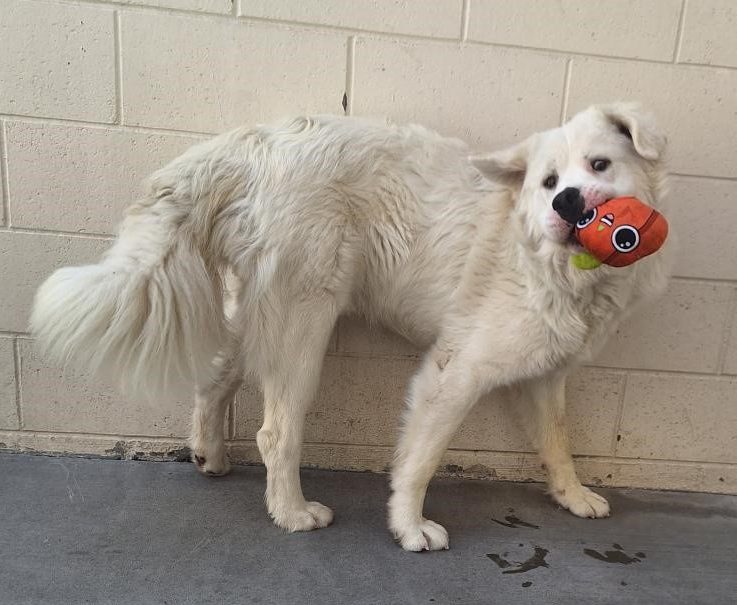 Happy Tails – Big Max goes from abandoned to adopted!
Meet "Big Max"! Big Max was brought to Animal Services by a kind-hearted individual who witnessed him being abandoned. After his stray hold period was up, Big Max was transferred to our partner, the
Nevada Humane Society
, where, happily, he found a loving home in just three days.
Animal abandonment is never the solution. There are numerous resources available to support you and your pet, whether it's finding ways to keep them, rehoming when necessary, or as a last resort,
surrendering them to a rescue agency. Our pets are counting on us to make sure we ensure they are safe, cared for and loved their entire lives.
Thanks to NHS for giving this guy a second chance at living his best life. For more adorable companions seeking their forever homes, be sure to check out the wonderful animals at the Nevada Humane Society
https://nevadahumanesociety.org/reno-adoption-center/
.
See you next quarter with more news and updates!