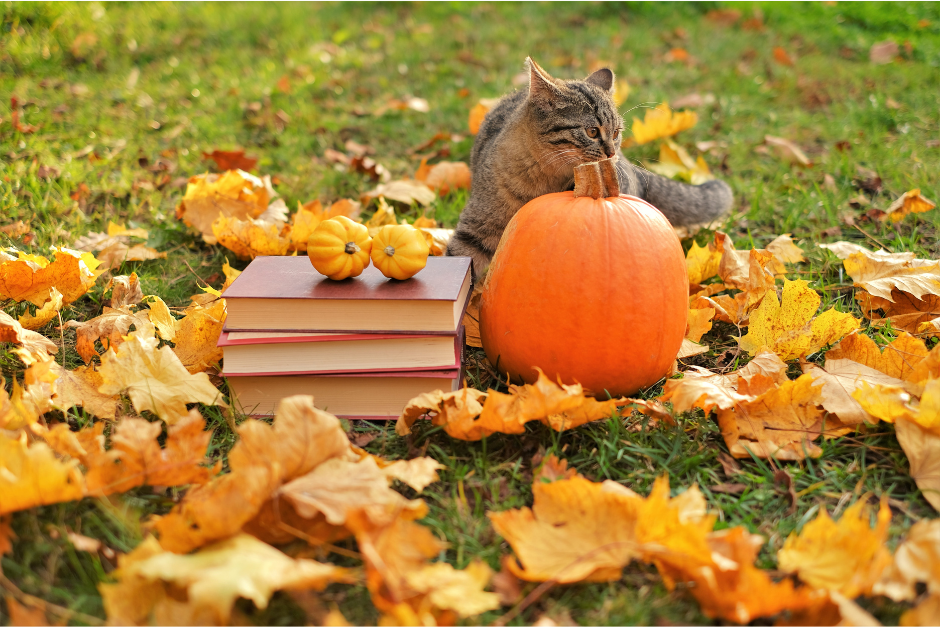 Happy August from the staff at Washoe County Regional Animal Services!
We are entering the home stretch for summer weather and are gearing up for fall! This quarter we have a newsletter jam packed with great information, events, and stories!
Licensing your dog is now easier than ever!
Washoe County Regional Animal Services has partnered with DocuPet to provide residents with a simple online solution for pet registration. Through DocuPet, residents of Washoe County now have access to the complimentary HomeSafe™ 24/7 lost pet service, secure online profiles that make licensing a breeze, plus hundreds of designer tag styles that double as a pet's official license.
All dogs are required to hold a valid license in Washoe County. Use promo code WELCOME5 at checkout to get $5 off a designer license tag of your choice. To learn more and to license your pet today, visit https://docu.pet/WashoeCountyRef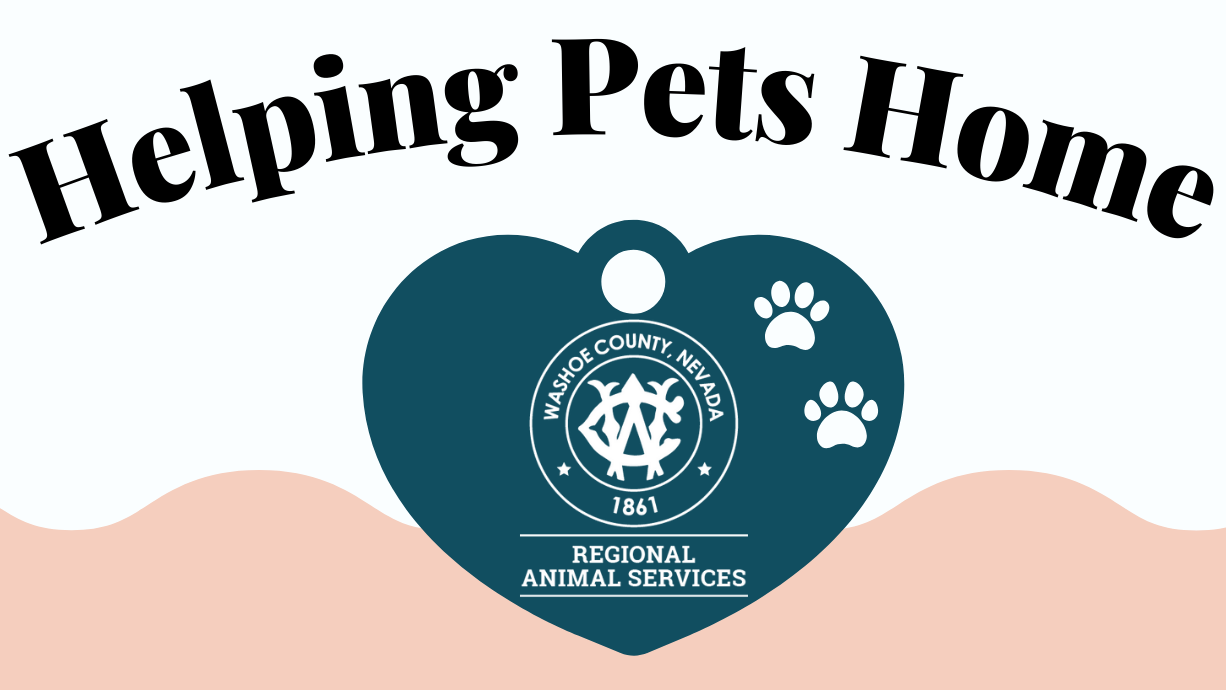 Helping pets Home
Washoe County Regional Animal Services is excited to announce our newest effort to help get pets home faster. Starting August 1st all stray pets that are reunified with their family at Animal Services will leave our facility wearing a new, well-fitting collar with a personalized ID tag on it!
We hope that this will help our community in their efforts to reunite a pet before bringing them to the shelter. 
Special thanks to the Dave and Cheryl Duffield Foundation who provided the funding to make this possible!
Tags for Wags!
Animal Services recommends your pet wear a physical form of identification in addition to their microchip.  To encourage our community to have both forms of ID for their pet we are giving away 1700 free personalized ID tags in the next 12 months! Get one at our office or at any event where we offer pet tags!
Visit our office today, or follow us on Facebook to find out when and where we will be offering free tags in the community!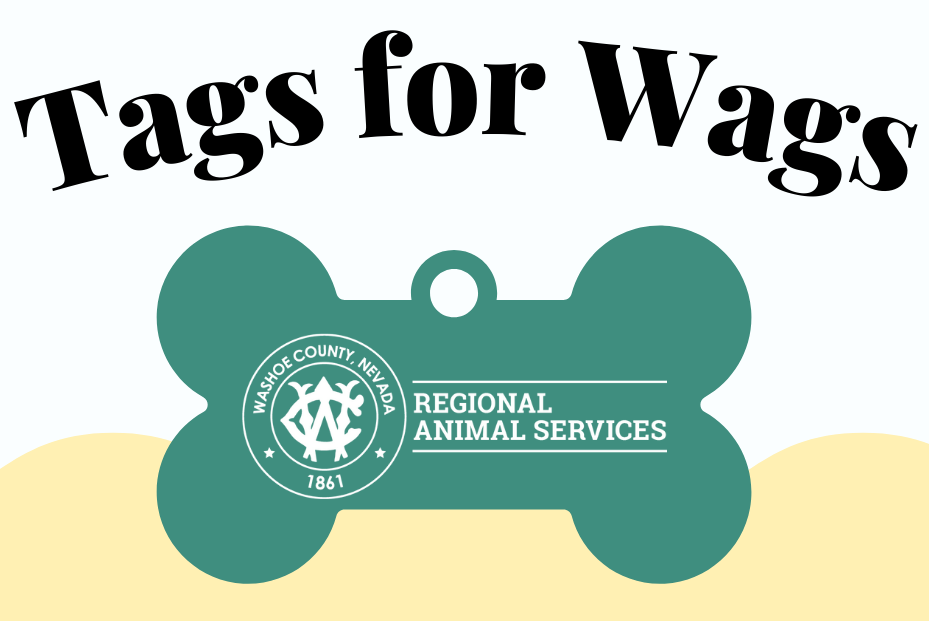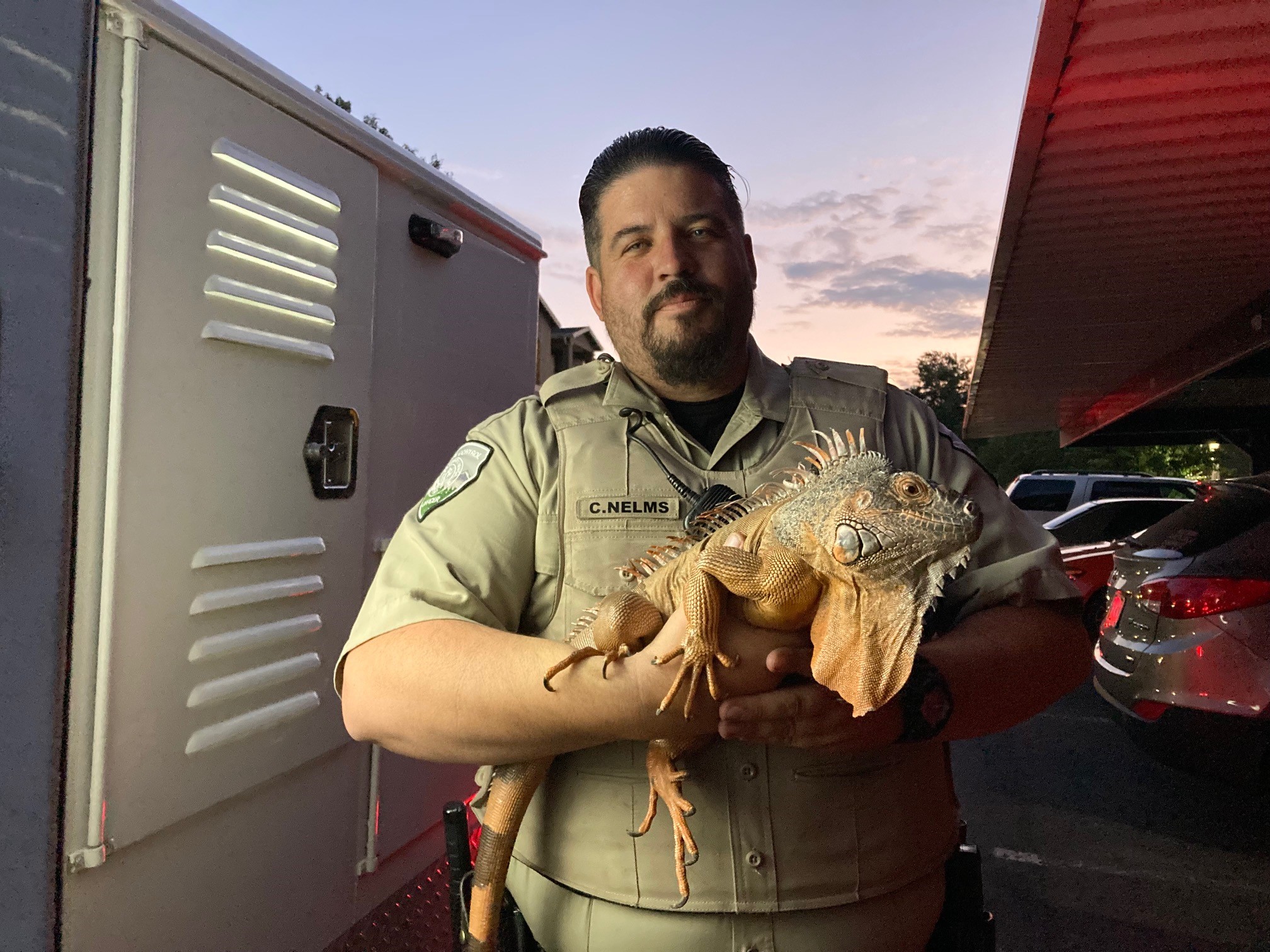 More than just "Dog Catchers"
Do you think Animal Services is just a dog pound? Newsflash!!! Dog catchers and dog pounds are antiquated terms that are no longer used in our industry. Our work is far more complex and the level of experience and professionalism that is required to be successful in this job has changed dramatically in the last 10-15 years. Our staff do so much more than pick up and care for lost animals and we aim to share some of the behind the scenes work that our dedicated, hard – working staff and volunteers do for you, day in and day out at Animal Services!
Officer Nelms (pictured) has been with Animal Services for 6 years and collectively has 16 years of experience as an Animal Control Officer. He recently applied his exotic animal handling skills with this very large iguana that escaped from his owner and ended up in someone's yard, much to their surprise!! Thankfully, Animal Services had a lost report for this guy and Officer Nelms was able to reunite them back together in the field! Great job!!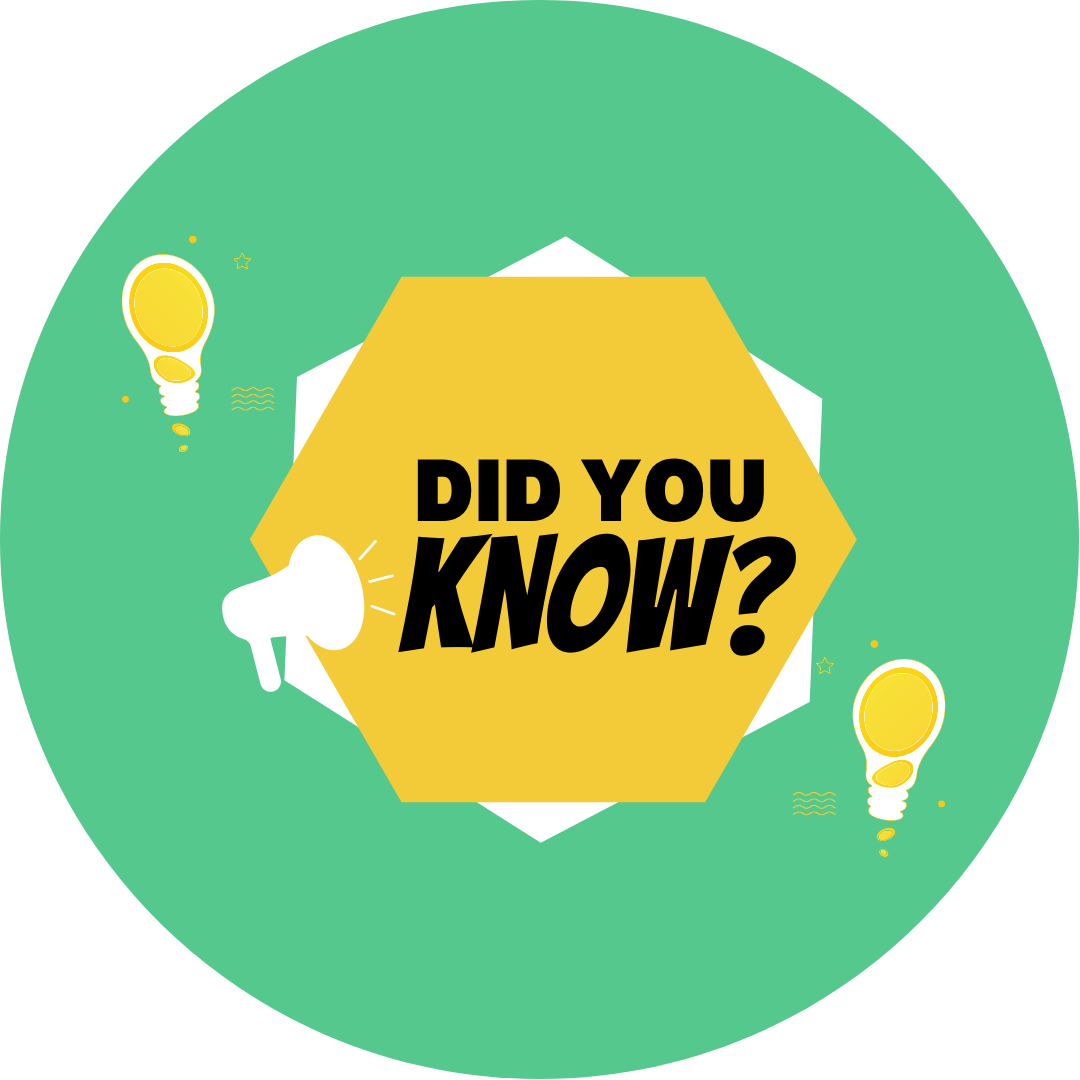 Did you know that Washoe County is one of the most successful in the nation at returning lost pets to their owners? When returning a lost pet it is incredibly important that we have current and up to date contact information so we can get your pet back to you quickly. If your contact information needs to be updated with WCRAS, you can request changes here. or you can send us an email at pets@washoecounty.gov
Kudos Corner!
Shout out to Officer Faber who had the highest number of animals returned home last quarter!!! 52% of the lost animals he picked up, were returned home without being brought to the shelter!
Animal Services strives to return pets in the field whenever possible. This frees up space and staff time for the pets that really need to be here, and helps the pet avoid the sometimes stressful shelter environment.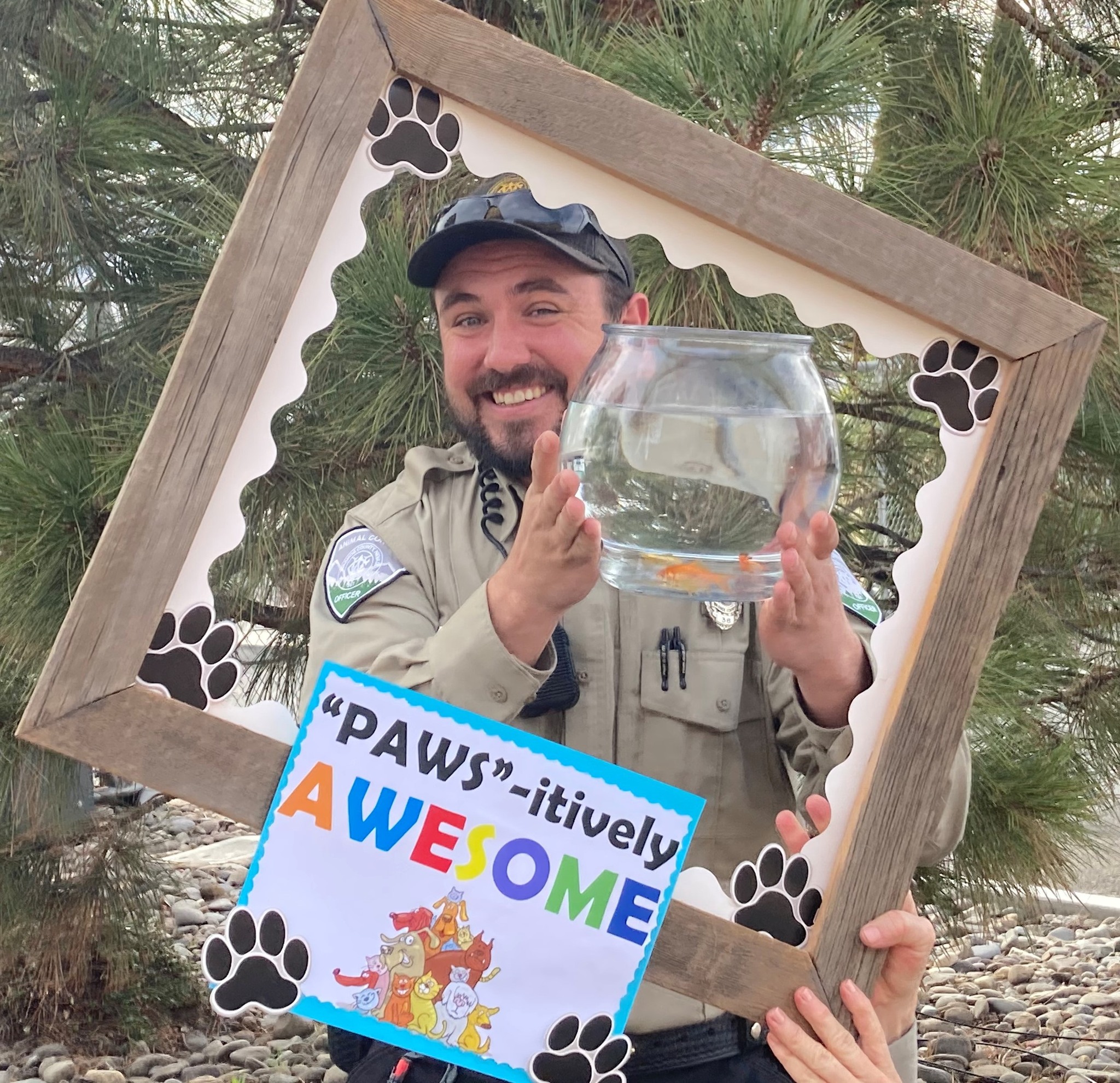 Walk-up Affordable vaccination clinic at Gepford Park!
We are excited to be bringing our vaccination clinics back into our community!
Our first community clinic will be held August 28th from 8am -12pm. at Gepford Park 305 E Gepford Way, Sun Valley, Nv, 89433.
No appointments required, but for a faster experience you can register online ahead of time.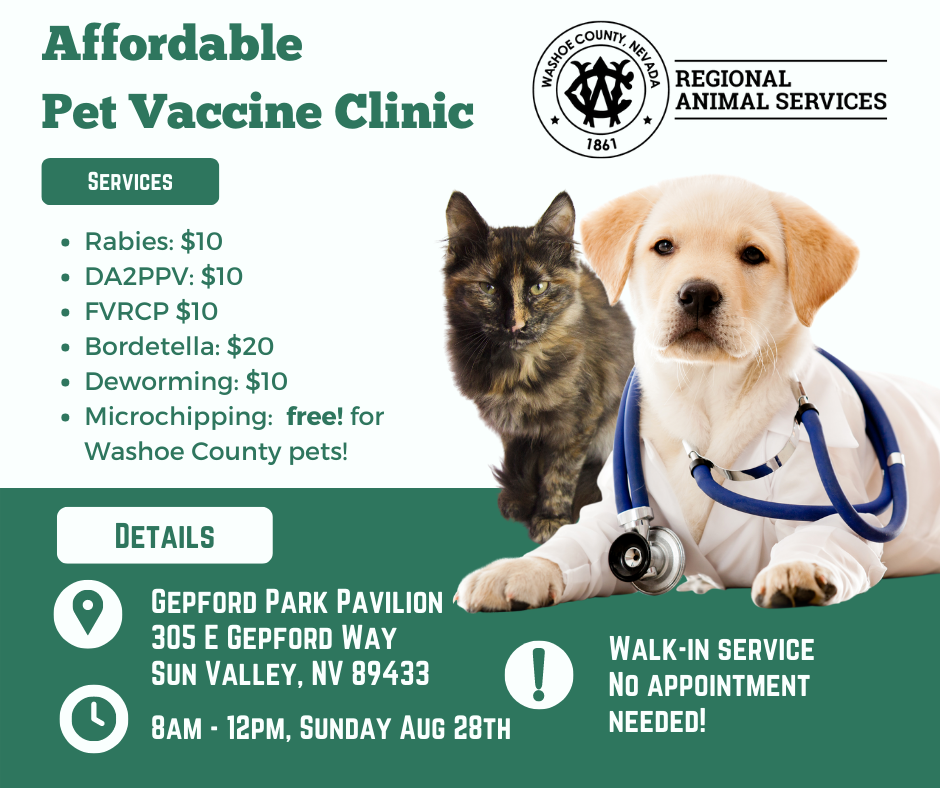 Does your pet need their Rabies, Bordetella, Distemper/Parvo, or FVRCP vaccination but you can't get a vet appointment or can't afford the cost? WCRAS holds monthly affordable vaccination clinics to help keep our pets and community healthy!  
Clinics are held every 1st Tuesday of the month, from 3:00-7:00pm

 

WCRAS, 2825 Longley Lane #A, Reno, NV 89502

 

New appointment times open on the 1st Wednesday of the month for appointments the following month and fill up quickly

 
Animal Services is proud to offer FREE microchips for pets residing in Washoe County!

 

Free microchipping is available Monday – Friday 8am-5pm and Saturdays 9am-3pm. No appointment necessary!

 

Washoe County Regional Animal Services,

2825 Longley Lane #A, Reno, NV 89502

 
It's Hip to Chip!
Check out some photos of pets that were brought in for a free microchip! These pets left with more than just a bandana, they left with a permanent form of identification that makes them significantly more likely to be reunited with their families if they become lost!
Free pet food Distribution for Seniors (60+)
Every 3rd Tuesday of the month

 

8:00-10:00 am or until supplies last

 

Senior Center, 1155 E. 9th St., Reno, NV 89512

 
Animal Services booth at the Duck Races!
Animal Services will be hosting a booth at Nevada Humane Society's annual Duck Race event 10am – 4pm, August 27th at Wingfield Park! We will be there with information and engraving free personalized pet ID tags so don't forget to stop by!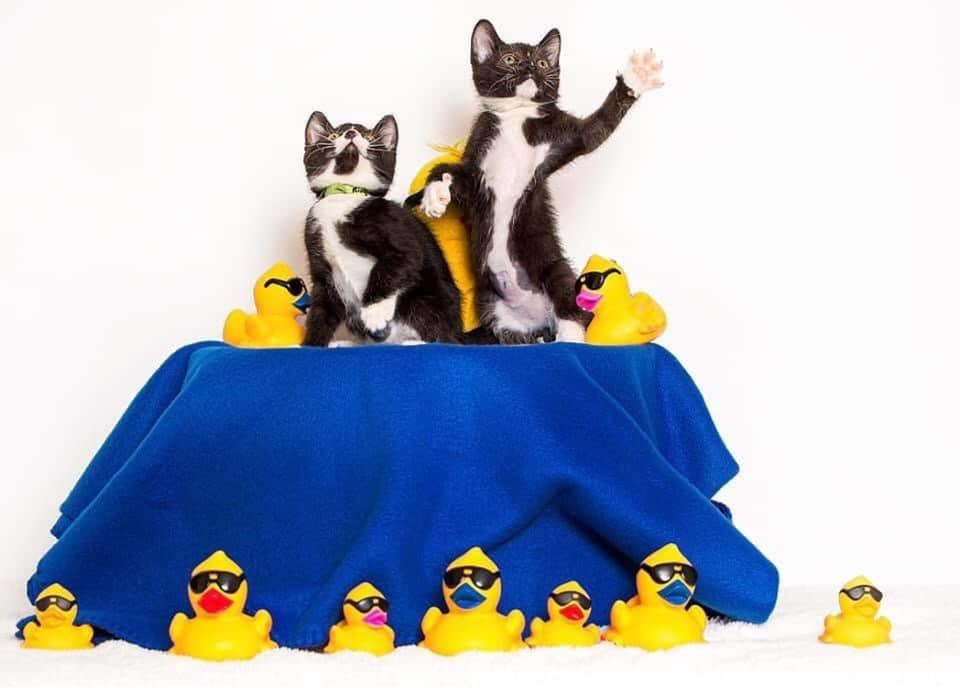 Supplies Needed
We are asking for donations for our shelter enrichment program, which focuses on improving the wellbeing of the pets staying with us by providing mental stimulation to reduce stress. We need large silicone pet toys for the dogs, cat toys for our kitties, peanut butter (Skippy, Jiff, or xylitol free), and Cheese whiz to make treats and to fill toys with to give pets a challenge.
Check out our Amazon wish list for suggested items and consider setting up a recurring donation from the vendor of your choice.
Donations can be delivered by mail or in-person to:
Washoe County Regional Animal Services
2825 Longley Lane, Suite A
Reno, NV 89502
Chicken bath time!
No two days are alike for staff at Animal Services, we come to work prepared for anything, and sometimes that means we end up bathing a trio of dirty chickens!
We recently received a call regarding abandoned chickens in Lemmon Valley, two of our officers, Officers Scannell and Albertson, responded.  Sure enough, when they arrived, they found 3 stray Silkie chickens ….. in the mud.  The feet and wings of the three chickens were caked with a heavy, sticky, clay-like mud that made it difficult for the chickens to move about. One of the black chickens had it the worst, and appeared to be almost completely coated in the sticky and heavy mud.  The officers brought the chickens to the shelter where Officer Scannell and Supervisor Mittelstaedt began the harrowing task of gently bathing them. Luckily the chickens were calm throughout this ordeal and they were able to get most of the mud off of them. The chickens were placed in our coops where they received tasty, post-bath, worm snacks. They will be cared for at Animal Services and eventually transferred out to a local livestock rescue organization or other partner for continued care and help finding their happy homes. Well done Officer Scannell, Albertson, and Mittelstaedt for helping these chickens out of a sticky situation!
See you next quarter with more updates!