NEW: SPECIAL EVENTS FOOD PERMIT APPLICATION AND POLICY
As of July 1st, the Special Events Program adopted a new application for all special event permits. This application allows us to gather more information up front about how a vendor operates to ensure their success at events. It also simplifies the application process for any vendor intending to set up multiple booths with the same menu, allowing them to only fill out one application for all their booths!
Policy updates include a preference for submitting applications at least 15 days before the start of the event. Applications submitted within 7 business days of the event will be charged a late fee.  Applications and payments submitted within 2 complete business days of the event will not be accepted.
WCHD hosted two workshops to discuss the new changes. Watch them by going to our Special Events Webpage.
Check out our new application and checklist here! AppPacket_SEFoods.pdf (washoecounty.gov)
National Food Safety Education Month: September is National Food Safety Education Month! WCHD will be posting food safety information on social media all month long. Find more information on Food Safety Education online through the Centers for the Disease Control and Prevention or the Food and Drug Administration's website.
Apply for the Excellence in Food Safety Awards: Has your facility passed health inspections with flying colors? Do you and your staff go above and beyond to serve safe food to your customers? Apply today for the Excellence in Food Safety Awards and get recognized for your efforts! Applications are accepted through February 2023.
Sesame, the New Food Allergen: Eight foods are identified as major food allergens. Under the FASTER Act of 2021, sesame is being added as the 9th major food allergen effective January 1, 2023. Prepare your facility by educating staff and updating allergen declarations on labels for any prepackaged food items that contain sesame as an ingredient.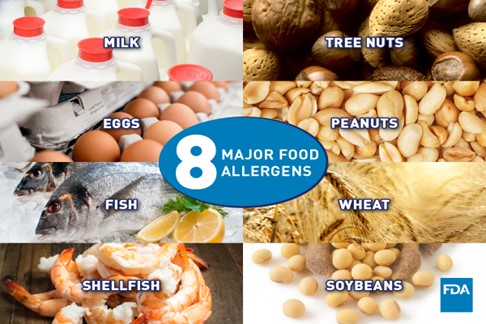 In 2004, congress passed the Food Allergen Labeling and Consumer Protection Act of 2004 (FALCPA). This law identified eight foods as major food allergens: milk, eggs, fish, Crustacean shellfish, tree nuts, peanuts, wheat, and soybeans. These foods make up about 90% of all allergic reactions.
Most people do not have any problems with these allergens. However, some people may be food intolerant (the inability to digest certain foods properly), or others may have a food sensitivity (this could be a reaction to an ingredient in the food that could cause other symptoms such as itchiness, flushed skin, etc.).  A food allergy occurs when a person's immune system thinks that an ingredient or food is harmful, and in turn the body produces chemicals to fight back.
In some people, allergic reactions are more severe and can even be fatal. In these cases, ingesting or touching a small amount of the allergen can lead to a rapid, acute reaction called anaphylaxis. Anaphylaxis usually starts within 5 to 30 minutes. Symptoms include extreme itchiness of the eyes or face; difficulty swallowing; swelling of the tongue, lips, or throat; shortness of breath; rash or hives; stomach pain, diarrhea, or vomiting; or tightness in the chest. If this occurs, seek immediate medical attention.
The 5 most common risk factors that contribute to foodborne illness are improper holding temperatures,
inadequate cooking, poor personal hygiene, contaminated equipment, and unsafe sources. Each quarter we
will highlight one risk factor, steps you can take to mitigate it, and link resources available for you to use.
Improper cooking temperatures
Final cook temperature refers to the temperature at which a raw animal product must be cooked to kill bacteria and eliminate the risk of foodborne illness. How to implement safe cooking practices and mitigate this risk factor in your kitchen:
Create policies that require cooking staff to always carry a calibrated probe thermometer and to take final cook temperatures of cooked from raw products.
Ensure staff is trained to measure final cook temperature by inserting it into the thickest part of the food, generally the center. The food should measure at the correct final cook temperature for 15 seconds. Demonstrate the proper way to calibrate a thermometer, by checking that it reads 32F when measuring the temperature of a cup of ice water.
Monitor staff by watching them take temperatures of cooked raw foods, and ensure they are taking proper corrective action if final cook temperature is not reached: such as returning foods to cooking equipment for longer time or throwing them away. 
Standard Operating Procedures (SOP) and educational posters are useful tools to train staff, maintain active managerial control within your facility, and gain compliance if your facility routinely has issues with maintaining final cook temperatures. These tools and many more are available to you in multiple languages in our Online Resource Library.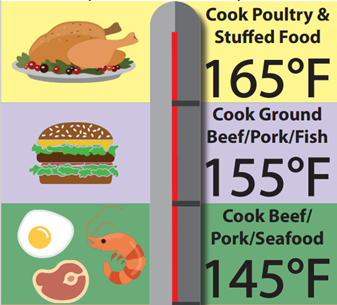 Staff must be trained on:
• final cook temperatures for different raw animal products
• how to take a final cook temperature
• corrective actions if product does not reach final cook temperature
• how to sanitize thermometer between different raw animal products
• how to calibrate a thermometer 
Restaurant Improvement shows before and after pictures of how your health inspectors help protect you from foodborne illness in Washoe County
Picture of a kitchen mat with an accumulation of food debris. When food debris and dirt accumulate, the risk of spreading foodborne illness through your facility increases.
Picture of kitchen mat free of food debris. Non-food contact surfaces in kitchens must be routinely deep cleaned to prevent conditions that harbor bacteria, mold, or other pathogens.