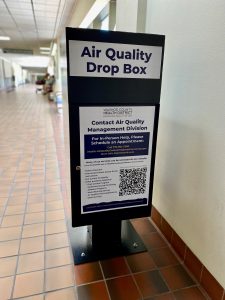 May 16, 2023. Reno/Sparks, Nev. – Residents and business owners looking for a convenient option to submit important air quality documentation can take advantage of a new, secure drop box offered by the Washoe County Health District – Air Quality Management Division (AQMD).
The drop box can be accessed in person at the 1001 E. 9th St., Building B location and is open during standard building hours, 8 a.m.-5 p.m., Monday-Friday.  See the location here.
"We're pleased to offer this convenient way to submit official documents securely," said Francisco Vega, Division Director for AQMD. "We know time is money so we have staff checking this drop box daily to ensure our customers are getting paperwork processed in a timely manner and hope people take advantage of this option."
The types of documents most-commonly submitted include:
Air Quality permit applications
Dust control documentation
Asbestos documentation
Residents with questions can get quick answers to environmental regulatory compliance and permitting inquiries by calling (800) 882-3233. That resources is available thanks to a partnership with the University of Nevada, Reno, Nevada Business Environmental Program (BEP) and more info can be found at https://unrbep.org.
To make an appointment with an air quality representative from the Health District, please call 775-784-7200.
Many of our services can be accessed via our website, OurCleanAir.com
Did you know that you can do the following actions on our website:
Make a Payment
Obtain One Accela Citizen Access Permitting Portal Instructions
See our current Air Quality
Obtain information related to:

Dust Control Program
Stationary Source Permitting
Asbestos Programs
Wood Burning Devices
Air Quality Fees & Applications
Open Burning
Additionally, we can answer questions via email at Health-AirQualityContactUs@washoecounty.gov.
The Washoe County Health District is nationally accredited by the Public Health Accreditation Board and has jurisdiction over all public health matters in Reno, Sparks, and Washoe County through the policy-making Washoe County District Board of Health. The District consists of five divisions: Administrative Health Services, Air Quality Management, Community and Clinical Health Services, Environmental Health Services and Epidemiology & Public Health Preparedness. More info can be found here